Main content starts here, tab to start navigating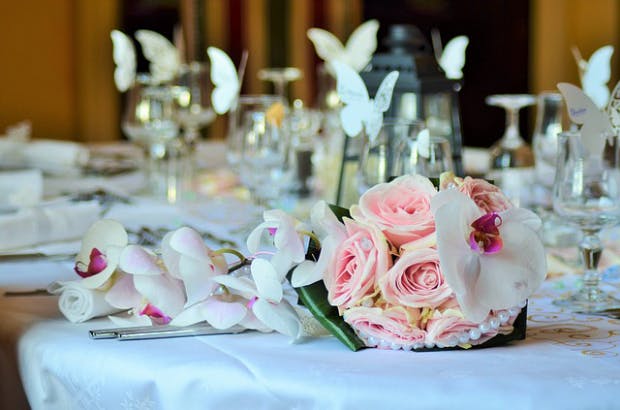 5 Helpful Questions You Need to Ask Your Wedding Caterer
Weddings are a celebration and no celebration is complete without some delicious food. We all tend to direct our focus to other things like the venue, the dress, the cake, and what not because most of us know what we want in those departments. To help you narrow your list down of possible caterers and before finalizing it all, here are a few important questions you should ask your wedding caterer.
1) Included Services
It is important for couples to know the value of what they are getting for the money they are paying. Certain aspects may seem unimportant but they contribute to the general dining experience. Never just assume certain services will be included. Think about everything till the very last detail and then discuss them with your service provider to avoid any last-minute disappointment.
2) Past Catering Experience
Experience means that the wedding caterer knows what he is doing and will be prepared to handle any shortcomings or mishaps. Hiring a relatively new caterer isn't a bad choice because they are probably looking to make a name for themselves and will provide you with impeccable service. If you plan on having a restaurant to cater for you, this question is crucial because a wedding operates nothing like a restaurant and it is important that they know what they are in for.
3) Past Experience at your Choice of Venue
If your caterer has catered an event in that setting before, you are in safe hands because one, you will not have much explaining to do as the wedding caterer will know his way around the place, and two, they can help you with their suggestions. For one who hasn't worked in your chosen location, it is important they familiarize themselves with the place and sort out a game plan.
4) Budget
Always discuss your budget before finalizing and ask them about their method of charging for their service, whether it is charged per head as a whole for the buffet, per plate, or have different packages. If you wish to make any additions, subtractions, or substitutions in the menu, discuss the details regarding the effect it will have on the total cost.
5) Menu Suggestions
You have tried their food, it has your approval, and you are ready to set the menu. Always keep in mind to ask them about all your queries and what they suggest you should choose. From portion size, presentation, to any modifications, try to not skip out on any details. Your wedding caterer's suggestion should always be taken into consideration because they have a better idea about how things work and what will work best on the day of the wedding.
Choosing a wedding caterer can get rather daunting because we all want delectable food that people will wolf down in minutes but when it comes to a wedding, there are many other concerns the couple has regarding service, modifications, special considerations, etc. Our company is based in Connecticut and we work to make your big day even more special by promising you the best meal and the best service you could've imagined.